Specials & News

New Brunswick based, green log home builders, the Gebhardts Cedar Log Homes, celebrate an amazing 20 year anniversary!

Environmental

Improving the energy codes to an EnerGuide 80 rating could save consumers up to $900 annually in energy costs. It could also prevent more than 5.6 tons of greenhouse gas emissions for every new home built to this standard.

Our Floor Plans

Gebhardt Cedar Log Homes are custom designed to any desired floor plan, but we also have our own models to choose from.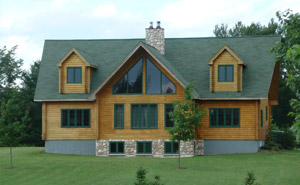 Gebhardt Cedar Log Homes are:
Canadian made
Unique and Custom Built to suit your needs
Comes with a 20 Year Limited Warranty on Laminated logs*
Beautiful, Safe and Environmentally-Friendly
Affordable
What makes your home one-of-a-kind?
At Gebhardt International we value and understand the importance of exceptional building standards, original and innovative designs, and custom care.
We are committed to fulfilling our customers' dreams by creating a beautifully crafted, original homes log homes that you will enjoy for years to come.
Our one-of-a-kind, quality made homes are in high demand! If you are interested in purchasing a log home, please contact us at your earliest convenience. We want to ensure that you get a preliminary design and a delivery date as soon as possible.
To get ideas and inspiration for your own one-of-a-kind log home, look through our floor plans and views today!
Contact Gebhardt International Cedar Homes today and we will see you have the highest quality log home available on the market today.