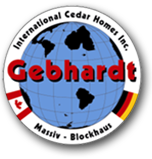 Contact Us Today!
506-488-2251
About Gebhardt International Cedar Homes Inc.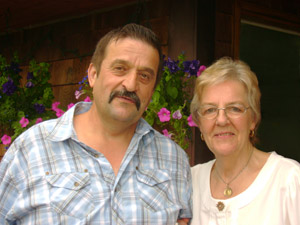 The Owner of the Company
Our Company, Our Vision
Gebhardt International Cedar Homes Inc. began in 1994 in Germany. Husband and wife team, Hertha Gebhardt (Marketing) and Günther Gebhardt (President), have made this company an undeniable success.
The demand for original, environmentally-friendly cedar log homes increased so greatly in their first years of business, the company decided to expand into New Brunswick, Canada in 1999. The idea was to establish and manufacture homes where the cedar was growing indigenously.
The move to Canada was a successful one for Gebhardt International. With an increase in international sales, Gebhardt International became astute at satisfying the specific demands of their international clients. Some of the specific features we pride ourselves on are the following:
The laminated log - the aristocrat of log construction
Self aligning corner notch (interlocking system)
Vertical thru-bolt rods with 1000 lbs. compression springs
Exclusive unique drip edge
Triple tongue and groove, joint with emseal sealing tape
Rough bucks frames for all Windows and Doors
Gebhardt offers a 20 Year Warranty on the laminated logs* used to construct your home. When properly assembled and sealed, our laminated logs help to combat against air and water infiltration which can lengthen the life span of your home. Please inquire for more information about our warranty!
Moreover, the company's log homes belong to the German thermic protection code (which is the strongest in the world) according to DIN 4108 (German Industrial Code). The thermic protection of our 152 mm thick cedar logs is identical with 203 mm pine logs.