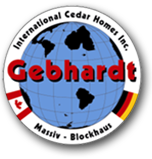 Contact Us Today!
506-488-2251
The Quality Of Gebhardt International Cedar Log Homes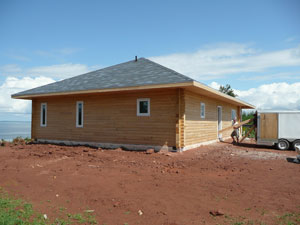 Log Homes are Environmentally-Friendly and Natural

A house made of wood is as unique as the people who live in it. Living in a log home showcases your values which may include: natural beauty, environmentalism, natural surroundings, chemical free living and originality.
Just as each log is unique, so too is each log home we craft. Log home are environmentally friendly and efficient because they can retain warmth and keep your home at a comfortable temperature without expensive heating systems that compromise both your bank account and your health.
Log homes also naturally regulate the humidity in your home. The cedars can 'breath' and through this breathing process they regulate both the humidity and the temperature in your home.
Moreover, wood filters the air that you breathe. Odors and toxins, such a cigarette smoke, are immediately eliminated through the woods' filtration system. The air that you breathe in your log home is filtered three to four times per hour.
Log homes improve your heath in the following ways:
Regulate Temperature and Humidity
Heat your home naturally
Act as air filters
Clean the air in your home
Natural Air Exchange
Mould Free
Asthma Free