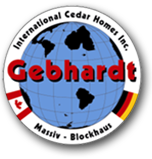 Contact Us Today!
506-488-2251
Energy Efficient Environmentally Friendly Log Homes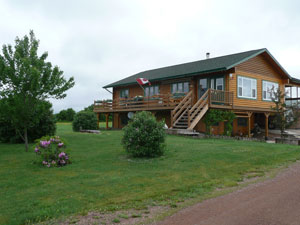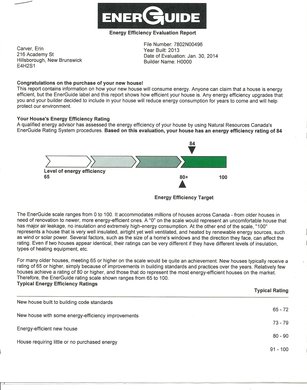 Why build an Energy Efficient New Home?
When properly assembled and sealed, the benefits of a Gebhardt energy efficient home can include:
Long term savings: efficient homes have lower operating costs because they use far less energy.
Protection from rising energy costs: efficient homes help offset the effects
of increasing energy prices.
Increased resale value: energy efficient homes are worth more to buyers.
Improved home comfort: energy efficient homes provide more comfort,
especially during the hottest and coldest months of the year.
Lower financing costs: owners of efficient homes are eligible for a
mortgage insurance
rebate and longer repayment terms from Canada Mortgage and Housing
Corporation.
Better for our environment: because they consume less energy, efficient
homes produce far less greenhouse gas emissions than inefficient homes.

Improving the energy codes to an EnerGuide 80 rating could save consumers up to $900 annually in energy costs. It could also prevent more than 5.6 tons of greenhouse gas emissions for every new home built to this standard.
For optimum energy efficiency, a homeowner's best choice is a house that achieves an EnerGuide for New Houses rating of 80 or higher. EnerGuide 80 homes offer a superior combination of comfort, efficiency and affordability. Ask your builder if they are licensed to display the EnerGuide symbol. Ask the builders what their EnerGuide Rating is.
The houses we build today will meet the new energy requirements 15, 30, even 50 years down the road. We can help consumers save on long-term energy costs and reduce our greenhouse gas emissions by improving our energy building codes today.
Build Green for the Future today!
All of our cedar homes are of the highest quality design and undergo rigorous quality inspections through every stage of the manufacturing progress.
Gebhardt International Cedar Homes Inc. can build a home to meet an EnerGuide Rating of 80+ and our homes can be evaluated by the EnerGuide for New Houses Program. Please contact us if you want a Cedar Log Home that is energy efficient and environment-friendly.
View our Licensing Agreement with Natural Resources Canada here (pdf).