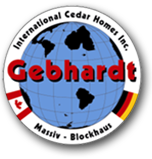 Contact Us Today!
506-488-2251
The Material - Cedar Logs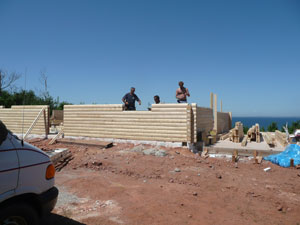 Cedar Logs
Every Gebhardt home has its roots in the forests of Atlantic Canada - the only one place on earth where white cedar grows as a part of the natural environment. The appeal of this fragrant, fine - grained wood is found in its natural radiance, warm range of colors and velvety finish. Live in luxury every day and create your one-of-a-kind cedar log home today.
Cedar is one of nature's most perfect building materials. Pound for pound, it is as strong as steel and has remarkable insulating properties. It has a natural resistance to weather, decay, pests and climatic extremes. Solid wood is one of the oldest building materials used by mankind and has proven its durability and longevity over the millennia. Your log home will assure you the benefit of low maintenance and high value.
We use only the best cedar logs and are never happy until to you are. Gebhardt International is dedicated to your vision and will only use the highest-quality materials to give you the log home you've always dreamed of.
Contact us today, and we would be glad to answer any further questions you may have concerning our building materials.